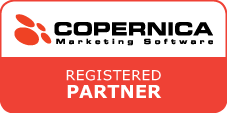 You want to get serious about lead generation in email marketing? As in: you want to work with a platform that actively and automatically sends sales qualified leads to your sales team so they can pick up the phone and start taking orders? If that's the case, Copernica is for you. It's that simple.
Lead nurturing at a professional level
Copernica is highly configurable, extremely flexible and it's just straight up smart. To make the most of it, you need to be a little clever yourself. I came up with a quick test to find out if you're smart enough to start using Copernica. Please read the following lines carefully:
You can have Copernica count the number of times a subscriber has clicked on a specific type of link (in one or more emails) and convert this number to a score that determines whether or not a lead is sales qualified AND you can have the system follow up on this by sending a pre-configured email to the subscriber and / or to your sales team.
Now, if you go "Uhhh…say what?", then maybe Copernica isn't for you. You have to ask yourself though: if you're serious about generating sales qualified leads, why would you NOT want to work with a platform like that? And you can always hire me to help you out!
All kidding aside
Copernica isn't for the masses. It's a high end system for businesses that are dead serious about making the most of their email marketing strategy. Sure, Copernica offers what any other email platform offers: list management, autoresponders, RSS-to-email, an API and so on. But flexibility and data intelligence are two fields in which it really shines.
Deliverability
But that's not all. There are some technical advantages to using Copernica too. Copernica allows / requires you to set up CNAME records and other geeky stuff in order to be able to send out emails on your behalf. A quick email with instructions to your hosting company will take care of this, and the results are awesome. Most ESPs use email aliases. That means the "Reply-to:" address is of your choosing, but the actual "From:" address is some long ugly string that may even differ from time to time – making it difficult for recipients to add your email addy to their address book.
Not so with Copernica: when they send emails on your behalf, the "From:" address is YOUR email address. The aforementioned CNAME records make sure that when your email is opened in Outlook, the "From:" address doesn't have this format:
qwerty234q_234qdfasfdbphpgfs
@[domain_of_ESP]
.[another_domain_of_ESP]
.[yet_another_domain_of_ESP]
.something
Or a variation of the above. That's just hideous and it doesn't belong in a professional environment. With Copernica, the "From:" address will be something like "[your_name] @ [your_company].com". Pretty neat, right?