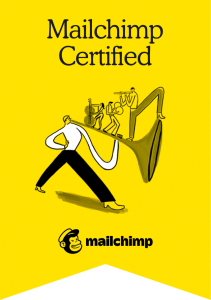 MailChimp is the care free email platform of today's online world. Unsubscribes, bounces, spam complaints…you don't have to worry about a thing. Just set up your list (with double opt-in subscribers!), create a campaign and start sending out emails – MailChimp will take care of the rest.
Lists, forms and templates
Of course there are elements that you can customize, such as sign up forms and templates (that's the kind of stuff that I'm particularly good at, by the way). List structures can be as simple as "email and first name", or they can be relatively complex databases with lots of segmentation options – your choice.
Other features


MailChimp offers a pretty awesome feature called "Automation" which lets you set up one off autoresponders, birthday emails or complete e-courses. You can set up fully automated RSS campaigns, open & click reports will tell you the effect of your efforts, there's an API and there are integrations for just about any online platform that you can think of. Last but not least: MailChimp comes with a huge knowledge base with insightful articles and useful instruction videos.
Freemium plan
If you're not willing or able to pay a monthly fee or to purchase a bulk of credits, you can use MailChimp's freemium plan: in exchange for including a MailChimp logo in your emails and on your signup form, you can use the software for free. There are some limitations, obviously. There's a maximum to the number of subscribers you can store in your account and there's a limit to how many emails you can send on a monthly basis. And some features are for paying customers only. This shouldn't keep you from giving the freemium plan a shot though: it's got all the basics covered.
Check out my CERTIFIED EXPERT listing in the MailChimp Expert Directory!